While Park City has excellent winter activities like skiing and snowboarding, there is so much Park City offers for the summer months. From zip-lining and mountain biking to golfing and shopping, there is something for everyone in Park City. Nestled in a valley of the Wasatch Mountains, there are beautiful sights from anywhere. The are some special activities and events which start in late June, but many of them start earlier. I underestimated how amazing this little ski town is during the summer. 
Getting to Park City from Salt Lake City Airport
Park City is located 35-40 minutes from Salt Lake City Airport (SLC). Despite an almost 3,000 feet elevation difference, driving to Park City is actually very easy in the summer. Just take Interstate 80 East – a multi-lane highway.. I did the drive at night without any trouble. Disclaimer: I did it in June and did not have to deal with any Winter weather conditions.
Hiking & Mountain Biking
There are a TON of ski runs in Park City. In fact, almost everywhere you look you're able to see chair lifts going up at every angle. During the summer, some of these ski runs are available for mountain biking and hiking. There are trails and paths everywhere for all skill levels. Be aware of the altitude – Park City's base is 7000 feet – so don't try something too strenuous if you're not accustomed to the altitude. There are way too many trails and areas for me to even begin scratching the surface of where the best hikes are. Instead, I suggest you search Google for "Park City hiking trails" or "Park City mountain biking". There are many places you can rent bikes from as well, so don't worry about trying to bring your own.
Utah Olympic Park
Salt Lake City hosted the Winter Olympics in 2002. They were one of the most profitable Olympic Games ever. Because of that, the Utah Olympic Legacy Foundation is able to keep most of the facilities open year-round for the public to enjoy. All of the facilities for Olympic events are used by (hopeful) Olympians to train. There are many activities and exhibitions everyday. The activities range from a short walk to extreme sports. No matter what your comfort level is, there is so much to do that it is easy to end up spending the majority of a day here. I've listed a few my recommendations.
Guided Tour
If you only want a quick overview of the Olympic Park, then this tour's for you. This one-hour tour shows the highlights of the park. You start the tour out in the Welcome Center, with an introduction to the three Olympic sliding sports (bobsled, luge, and skeleton). Surprisingly, the skeleton is the safest sliding sport despite going head first down with your face inches from the ice! Who would have thought that?! Certainly not me – I thought that bobsledding was the safest.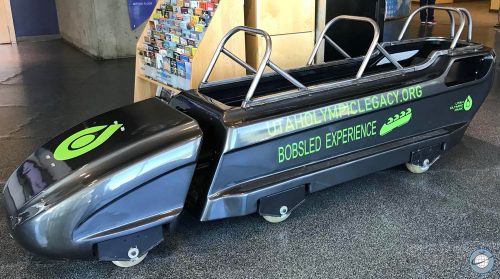 Tip: Leave yourself some time to walk through the two small museums. The tour does not cover them. I didn't realize this and didn't have time to go after.
A quick stop at the pool nearby (more on that below), and the tour continues, via shuttle, up the mountain. It stops at the top of the bobsled track, a rare physical set of Olympic rings and the Men's ski jump hill. The view from the ski jump hill was breathtaking… just don't look down if you're afraid of heights!
Flying Ace All-Stars Freestyle Show
Not far from the Welcome Center is a swimming pool. What does a swimming pool have in common with Winter Olympic sports?! Not much, but it does allow freestyle skiers to train year-round. One of the events of freestyle skiing is where an athlete will ski down a hill, then up a steep ramp to do twists and flips in the air before landing. The Flying Ace All-Stars are a group of Olympian and World Champion freestyle skiers. They do shows on Saturdays and Sundays starting in late June.
In case your visit is not during the peak Summer season, you may be able to catch people practicing. It was amazing watching them soar 40-50 feet in the air before landing in the pool below.
Summer Bobsled Experience
Park City is one of several places worldwide that the general public can bobsled. This is possible during the Summer months by using a bobsled on wheels. Not only is the ride longer (as they don't start from the top during the Winter), but it is also cheaper by more than 50%! It costs $75 but you can save 10% by buying your ticket online.
As I mentioned, the guided tour takes you up to the top of the sliding track where the [men's] bobsleds start. It gives a good sense of how the track is laid out – steep and twisty! I'm not sure if it was a good idea to do the tour first, but it was definitely a good idea to go bobsledding!
I can emphatically say that bobsledding was one of the best things I've ever done! Unless you have a condition that prohibits you from doing so (they are very serious about safety), I highly recommend doing this. It isn't cheap, but you'll NEVER forget it. I posted a video on our Facebook page of my bobsled run. I didn't want to put it on here in case anyone gets vertigo. To get a sense of what it was like, notice the sky in the picture above.
Other Summer Activities at the Utah Olympic Park
If bobsledding isn't your thing and there aren't any freestyle skiers flipping through the air, you should still consider visiting the park. There are multiple zip-line and ropes courses. If you'd rather stay on the ground, you could go down the ski jump landing hill in an inner tube. There are videos on YouTube you can watch, but it looks like a ton of fun!
Golfing
Most people wouldn't expect there to be a lot of golf courses in a place that is 7000 feet in elevation at a ski town. I certainly didn't! There are 15 golf courses in the area (7 of them private). The views from most of the golf courses are breathtaking. The ball also goes further. I'm not a very good golfer, but I managed to smash a drive 300 years down the middle of the fairway! Pretty sure it was the elevation that helped that, but I still don't know how I did it.
I played Park City Golf Course, without a tee time. The employees were very friendly and were able to get me on quicker than I anticipated (with no warm up!). The course was in amazing shape and very reasonable at ~$45 for 9-holes, club rentals and a cart. The local they paired me with was super friendly and patient as I lost several golf balls on the first hole alone – not the course's fault, trust me!
Park City Festivals in the Summer
Park Silly Sunday Market
When I checked-in at my hotel, I asked if there was anything special going on that weekend. Without hesitation, she said "Park Silly!". This outdoor festival has food, live music, crafts, and something to do for every family member.  Park Silly is held on Main Street, in the historic area of Park City. You can find people selling their handmade crafts or food. My favorite was maple syrup aged in rum or bourbon barrels. Yum! There even a build your own bloody mary bar – however, Utah's liquor laws mandate that a drink only have 1 ounce of alcohol in it.
Park Silly draws a large crowd and thus parking nearby is a premium. Also, the cost to park is more expensive similar to surge pricing for Uber. It's a good thing that Park City has a free bus system. Best part about them, other than being free, is that they're electric! I would definitely recommend making use of the buses. I never once drove to downtown Park City as I always took the bus. If you're not sure of which bus to take or if the specific bus goes to where you want to go, just ask. Every bus driver I encountered was very friendly and gave good directions – unlike my experience in Montreal!
Other Summer Festivals
Deer Valley Music Festival with the Utah Symphony (June – August)
Kimbal Arts Festival (August)
Various Arts and Live Music Events (All Summer long)
My Thoughts on Park City During the Summer
Park City offers so much for any type of visitor. The city is truly beautiful and very clean. Everyone that I talked is prideful in what they do and their city. They made me feel very welcome. In all of my recent quick weekend getaways, I had one of the best times that I can remember. Visiting Park City during the Summer season is a must! I already want to go back.
Click here to find the best rates on hotels in Park City!
Pin this to save for later