If you're like me (or want to be like me), you belong to multiple hotel loyalty programs and airline frequent flier programs.  It isn't easy to track account balances and expiration dates on your own.  Thankfully there are free websites that do it for you.  One of the websites that I visit near-daily is Award Wallet.  It is a fantastic tool that I use to keep track of my many airlines, hotel, and other accounts. 
What Does Award Wallet Do?
It automatically monitors points changes, expiration dates, elite status, and sends email updates with the changes as well as upcoming trips.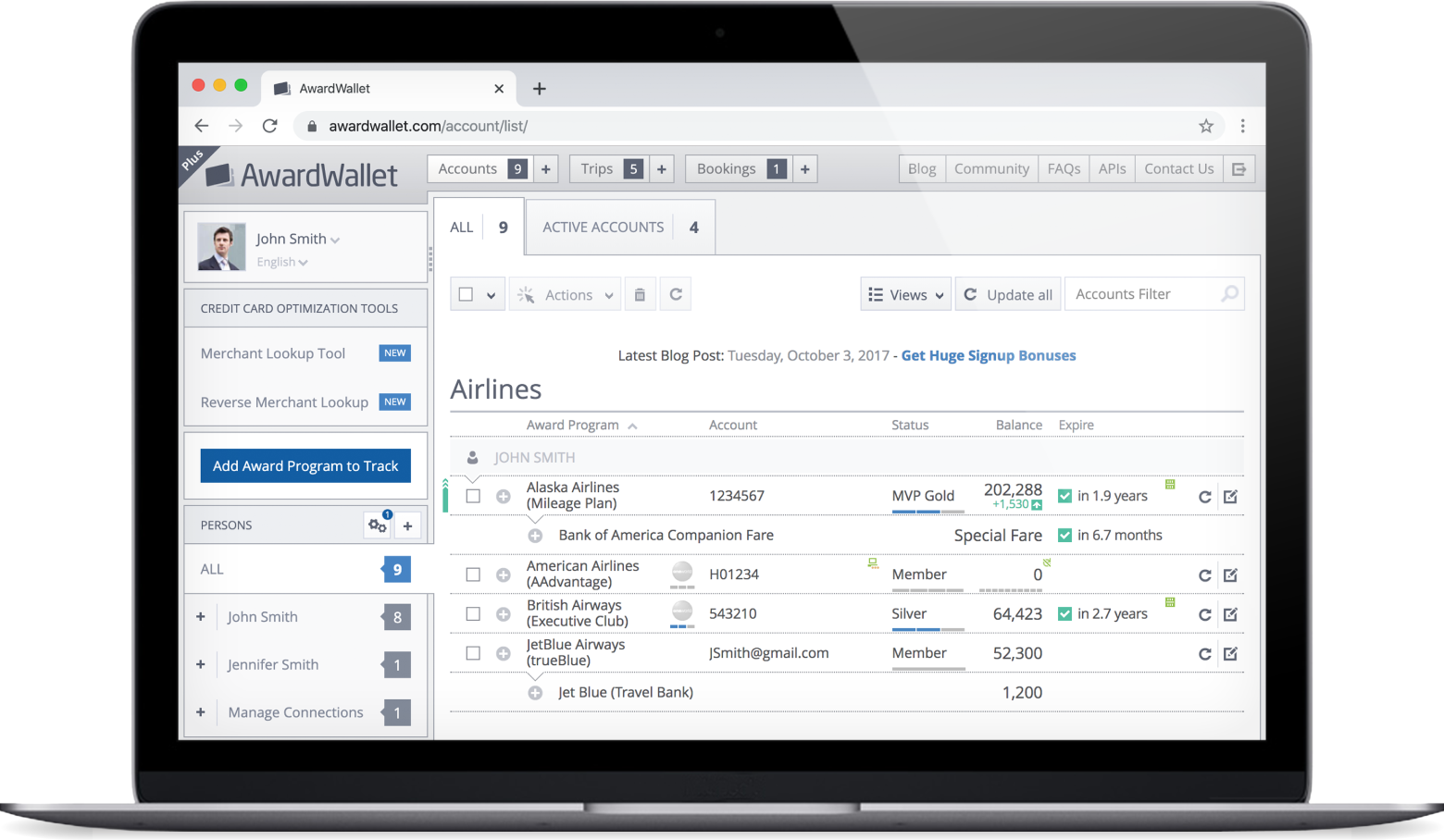 On one screen I can view my flight details, which include confirmation code, flight numbers, dates, times, and seat numbers, hotel reservations, and directions from the airport to the hotel and any other notes associated with your trip.  It is very easy to use and all of the information is super easy to reference as it is all on one screen.  It even emails you to remind you to check-in for your flight.
How Does Award Wallet Work?
Award Wallet stores your user name and password for each loyalty program you're a member of. It then uses that to continuously check your points balances and notifies you of changes.
Also, you can have it log you into your airline/hotel accounts so no more remembering all of your usernames/account numbers and passwords! You can have a very long and complex password for each loyalty program, then use Award Wallet to log into them. This makes your miles & points much more secure.
I Highly Recommend Award Wallet
The site is VERY easy to use and is super convenient. Click here to sign-up! Let me know if you have any questions, or if you want a coupon to upgrade your account (I only have ten of them!).
There are a couple of other sites that I have tried to use which all have their pros and cons.  However, in my opinion, none are as feature-rich as AwardWallet.
Disclaimer: This is an unsolicited post and I am not affiliated with Award Wallet in any means. I do not receive any compensation from Award Wallet except for the above referral link just gets me referral points. Some of the features of Award Wallet I mentioned are part of the paid service.