The Sterling Traveler is a reader-supported blog.
This post may contain links that earn us a commission when you click on them. While using the links here is optional, we would appreciate it if you did.
It's always interesting when a major credit card issuer (Chase, American Express, Citi, etc.) comes out with a new card, especially at a time like we're experiencing. Sometimes the new credit card isn't noteworthy. Other times, it can get a lot of attention. This is the case with the new card from Chase – the Freedom Flex – and it has certainly turned heads. The Freedom Flex fits well in anyone's wallet.
Benefits of the Chase Freedom Flex
One of the best things about the Freedom Flex is the number of points you'll get for everyday spending. The spending categories are among the best in Chase's offerings. The category bonuses are:
5% on grocery store purchases up to $12,000, the first year
5% on quarterly-rotating categories, up to $1,500 each quarter. This quarter's 5x category is WalMart and PayPal
5% on travel booked through the Chase Ultimate Rewards Portal
5% on Lyft, through March 2022
3% on dining, including delivery services
3% on drugstore purchases
1% on everything else
No other credit card in Chase's portfolio offers 5% back on grocery stores!
Additionally, there's also an introductory APR of 0% for the first 15 months. I never recommend carrying a balance due to the high-interest rate that is typically on rewards credit cards. The interest greatly outweighs any reward you might get. However, with 0% interest for 15 months, this allows more flexibility to pay large purchases over time. Just make sure it's paid in full before the 15 months is over since interest is likely accruing (but not incurred).
Is There an Annual Fee on the Freedom Flex?
No! This may be the most surprising thing about this card. The benefits are as good as, if not better than, other cards that have annual fees. I don't always mind an annual fee, because I know that I would be getting more value from the card than the annual fee. If you're averse to annual fees and don't like credit cards that have them, this is a very strong contender for a spot in your wallet.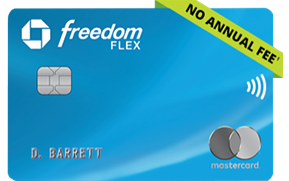 Freedom Flex Sign-Up Bonus
One of the main reasons to apply for a new card is the sign-up bonus. They often give a huge amount of points for a little spend on the card. The current offer of the Chase Freedom Flex is $200, or 20,000 Ultimate Rewards points, after spending $500 within the first 90 days of having the card. If you use this card only at grocery stores to spend the $500, you'll have $225 or 22,500 points. It's a good deal for the level of spend.
While this sign-up bonus isn't spectacular, it is quite good for a card that doesn't carry an annual fee.
Comparison of Freedom Flex
In case it isn't obvious, there isn't another card that offers the same benefits without an annual fee – from any card issuer. A fair comparison of benefits can only be done against cards that have an annual fee. The closest "competitors" to the Flex are the American Express Gold and the Chase Sapphire Preferred.
| Benefit | Chase Freedom Flex | Chase Sapphire Preferred | AmEx Gold |
| --- | --- | --- | --- |
| Travel | 5x** | 3x | 3x** |
| Dining | 3x | 3x | 4x |
| Rotating Categories | 5x | n/a | n/a |
| Drugstores | 3x | 1x | 1x |
| Annual Fee | $0 | $95 | $250 |
* Up to $12,000 on the Freedom Flex, and up to $25,000 on the AmEx Gold
** when booked via issuer's travel portal
As you can see, this card is a no-brainer – especially if you have other cards that earn Ultimate Rewards points! The bonuses of every day spend are truly amazing for a card that doesn't have an annual fee. I always want to be honest and give as much information as possible. The other two cards do have better sign-up bonuses but the value of the sign-up bonuses doesn't make up for their annual fees.
Pairing the Freedom Flex with Other Cards
The Chase Freedom Flex gets much stronger when it's paired with other Chase cards. Particularly those cards that earn Ultimate Rewards points. Freedom Flex earns points that are worth 1 cent per dollar, thus 20,000 points are equal to $200.
The points earned from the Freedom Flex are combinable with points you earn from other cards that earn Ultimate Reward points. Cards that earn Ultimate Rewards points are the Sapphire Preferred, Sapphire Reserve, and the Ink Business Preferred. Their points are worth more than 1 cent per dollar and can be transferred 1:1 to airline and hotel partners.
The Chase Trifecta
The combination of cards that will get the most value out of your spending, generally speaking, is the Freedom Flex, Freedom Unlimited, and the Sapphire Preferred. This may not be true depending on your spending patterns, but for most people this holds true. Here's the reason why:
Even though, traveling is likely more rare these days, I'm sure you're still eating food or drinks from restaurants (even when you get delivery). With all of those spending categories, there isn't a whole lot that would fetch use for the Freedom Unlimited. It's pretty much there as a "catch-all", so you're earning more than 1 point per dollar.
My Thoughts on the Chase Freedom Flex
I'm very surprised that Chase (or any credit card issuer) came out with a new product during a pandemic, but they certainly hit a bullseye with this one. The Chase Freedom Flex gets bonuses on spending categories that are not found with other cards that Chase offers. If you're able to get a Chase card (i.e. below five new credit cards in the last 24 months), then you should definitely consider applying for this card!
Apply Today for the Chase Freedom Flex
20,000 Ultimate Rewards points after spending only $500 in the first three months
3 points per dollar spent at drugstores and restaurants
Rotating categories earning 5 points per dollar
No annual fee